At PR Partners Academy we will develop students to graduate as highly motivated hairdressers who possess the advanced skills and confidence to transition smoothly into their new role as salon professionals.  We take pride in our award winning salons and our ability to develop future hairstylist to support our ever changing industry. This is what drives us to deliver the very best education and practical experience.
Students receive their education from successful, experienced stylist and educators who are experts at their craft. Since PR Partners Academy is also working salon, you will be immersed in an upscale salon environment, surrounded by the people, products, and energy that exemplifies the hairdresser's lifestyle you've chosen.
During the Rising Star Phase students will start with the fundamentals in hair cutting, color, texture, styling, esthetics, nails, and communication. These concepts will be introduced in a classroom environment. Practical concepts will take place with live demos by some of the best in our industry. Students will then be coached by these professionals as you execute what you've learned on mannequin heads. Communication and client interaction are introduced during this phase in Rockstar communication. This will enable you to find your voice and be able to communicate with guest as you move through the next phases of your program.
---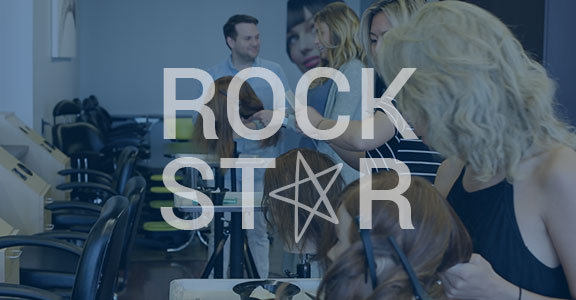 During the Rockstar phase students are introduced to the clinic floor which is a fully equipped salon environment. You will have your first experience with live models during this phase and use what you are learning during Rockstar communication to deliver a first in class experience to each guest. The students' Coaches will be there to support you every step of the way. Students will have the opportunity to use and experience many professional products during this time. Classroom education continues during this phase with a continued focus on Rockstar communication and building your Social Media brand.
---
Cost of Tuition and Supplies
| | |
| --- | --- |
| Tuition | $14,600.00 |
| Application Fee | $100.00 |
| Kit, Equipment, Supplies and Study Guides (non-refundable) | $2,800.00 |
| Total | $17,500.00 |

Virginia State Board Requirements
| Course of Study | Min. Hours of Theory | Min. Number of Performances |
| --- | --- | --- |
| Orientation (Policies & Procedure, State Laws & Rules, Life Skills, Tricology) | 60 | |
| Pre-Clinic Theory – Inclusive of but not Limited to (Infection Control, Anatomy & Physiology Chemistry, and Electricity) | 150 | |
| Shampooing and Rinsing (Fundamentals, Safety, Procedures, Anatomy, Chemistry & Physiology) | 65 | |
| Scalp Treatment (Scalp Analysis, Scalp Disorders & Diseases, Scalp Manipulations, Scalp Treatments) | 50 | 10 |
| Hair Design (Anatomy & Face Shapes, Finger Waving, Molding, & Pin Curls (15), Roller sets, Combing & Brushing, Thermal Curling, Waving, Braiding & Pressing (15)) | 155 | 320 |
| Nail Care (Anatomy & Physiology, Nails Diseases & Nail Disorders, Natural Nail Care Procedures (10), Artificial Nail Application Procedures(10), Sterilization) | 60 | 15 |
| Haircutting (Anatomy and Physiology, Principles, Tools and Implements, Practical Application Procedures, Safety) | 105 | 50 |
| Permanent Waving and Chemical Relaxing (Hair & Scalp Analysis, Products, Tools & Implements, Practical Application Procedures, Chemistry, Client Records, Safety) | 75 | 25 |
| Haircoloring and Bleaching (Hair & Scalp Analysis, Color Theory, Products, Tools & Implements, Practical Application Procedures, Chemistry, Classifications of Color, Client Records, Safety) | 105 | 45 |
| Skin Care and Make – up (Skin Analysis, Anatomy, Sanitation, Chemistry, Products, Tools & Implements, Practical Application Procedures, Hair Removal, Lash & Brow Tinting, Light Therapy, Safety) | 70 | 5 |
| Hair Additions and Wigs (Human vs Synthetic, Wigs & Hairpieces, Hair Extensions, Practical Application Procedures, Care & Styling) | 25 | 5 |
| The Salon Business (Transition – School to Salon, Preparing for Licensure, Professional Ethics, Money Management, Client Base Expansion, Building a Business, Salon Operations & Management) | 55 | |